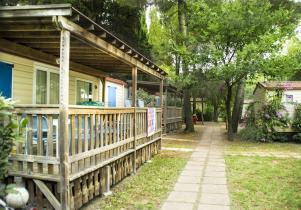 September offer for campsite in Tuscany: an oasis for families
Roulette Formula for a mobile home
September is a beautiful month in Tuscany!

It's never too late to take your summer holiday and it's definitely too early to go back to your busy schedule: book an outdoor camping trip in Tuscany right now!

Le Capanne Camping Village, located in Bibbona, in the province of Livorno and part of Tuscany, will offer you the relaxing atmosphere you are looking for. Experience a holiday with your entire family immersed in nature. Enjoy the last days of the summer and take advantage of a quieter and less crowded time of the year.

SEPTEMBER SPECIAL IN BIBBONA
(offer valid from the 6th to 13th of Septembe, 2020)

ROULETTE PLAN
For 2 adults + 2 children under 14 years:

Standard mobile home: € 55 per night


Throughout the Camping Village Le Capanne you will find many services at your disposal:
Large areas equipped for the enjoyment of children
Pool
Golf course
Wellness area
Dog friendly structures
All this and much more awaits you for your September holidays on this campsite in Tuscany!

PLEASE REQUEST A CUSTOMIZED QUOTE NOW!

Or request more information now:


loading form
OPENING MAY 20, 2021
Choose your offer!

EVIDENCE
Exclusive 15% discount on selected accommodation
Credits TITANKA! Spa © 2018